Vinahardware supply to the product Gas Spring P275Z1. The gas spring is perfectly suited for the convenient opening and closing of furniture lids. For extension damping, the gas spring is installed vertically with piston rod down.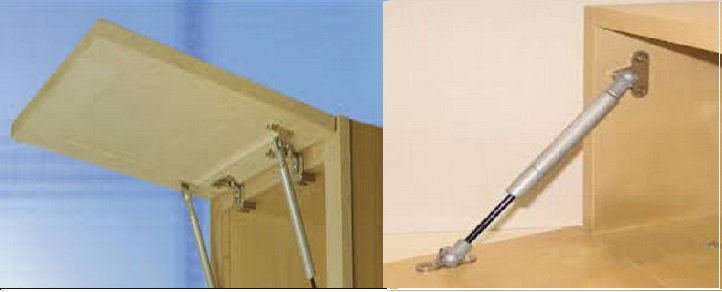 Gas Spring
Technical data
Product name: gas spring

Gas Srourse: air/ nitrogen

Material: Iron pipe (besides filled with nitrogen, the iron pipe is painted with sound attenuation oil in the inner wall to anti-rust, lubricate and endure high temperature.)

Surface treatment: spare part plating (nickel, white zinc)/iron pipe painting

Switching times: the test technical data reaches 60,000 to 100,000 compression travels (Over 60,000 is qualified.)

Lifting capacity: 50 ~200N

Lift Distance: 90mm

Color: silver coating

Advantage: the gas spring adopts whole cushioning and silent in use design

Irony fittings: the surface is smooth without scrapes or burrs; no deformation or burrs; no burrs of the product appearance; smooth screw without deformation or burrs.

Plastic fittings: no splay wave, shrink, deformation or burrs on the surface.
Installation instruction:
The gas string shall be installed downwards so as to reduce friction and to guarantee the best resistance mass and bumper capacity.

Determining the installation site of fulcrums is the guaranty of right installation. The gas string shall be properly installed in accordance with the diagram below, that is, it shall pass the central line when close, or the gas spring will always open automatically.

The gas spring shall not be pressed by aslant or horizontal force when in use and shall not be used as a handle.

In order to secure the reliability of tightness, the surface of gas spring shall not be destroyed. Painting the paint or chemical materials on the gas spring is forbidden and painting after the installation of gas spring is also not allowed.

Gas spring is a high-pressure product. Do not dissect, bake or drop it at random.

Environment temperature: -35℃-+60℃ (specially manufactured 80℃

The installation connecting points shall be flexible without obstruction.

The size shall be reasonable and the force shall be proper, and another 10mm is retained for piston rod travel.
Vinahardware supply common gas spring with size: length 275m/320mm and liftcapacity 100N/160N.
For more information about these products please contact us directly or visit: http://www.phukiennganhgo.com/ben-hoi-p275z1-1-1-759879.html
Nghĩa Nguyễn - Vinahardware